In the past weeks we have been working on implementing a new Drupal 8 Translation Service Provider for the Translation Management module. Acclaro, a US based translation and localization company, extended its service integrations by adding support for TMGMT.
With Acclaro as the Translation Provider, TMGMT editors can submit their Drupal content directly to Acclaro's translation management platform and experienced team of translators. Once the content is translated, it is sent back to the Drupal website for review and acceptance. After accepting the translation it will be published automatically. This greatly simplifies the translation process and enriches global website experiences.
About Acclaro
Acclaro is a New York headquartered localization and translation company that helps the world's leading brands succeed across cultures through a fine-tuned process, top industry talent, and long-term investment in its clients' global reputations. 
Working in over 60 languages and with offices around the globe, Acclaro brings a personal touch to help clients open new markets and gain a competitive edge by expertly adapting brands, products and services.
Acclaro's experienced team members deploy the latest industry tools and technologies resulting in quicker turnaround times, better quality, and lower costs for clients. Read more in Acclaro's blogpost.
Continuous Translation
The new Acclaro translation provider integration includes support for continuous translation.
Site administrators are able to set up continuous jobs that are going to detect new and changed content. Based on the selected languages Drupal will submit the content for translation to Acclaro.
Customers can decide if they want to review translations or accept them automatically. It allows delegation of the complete translation process to Acclaro's team of localization professionals.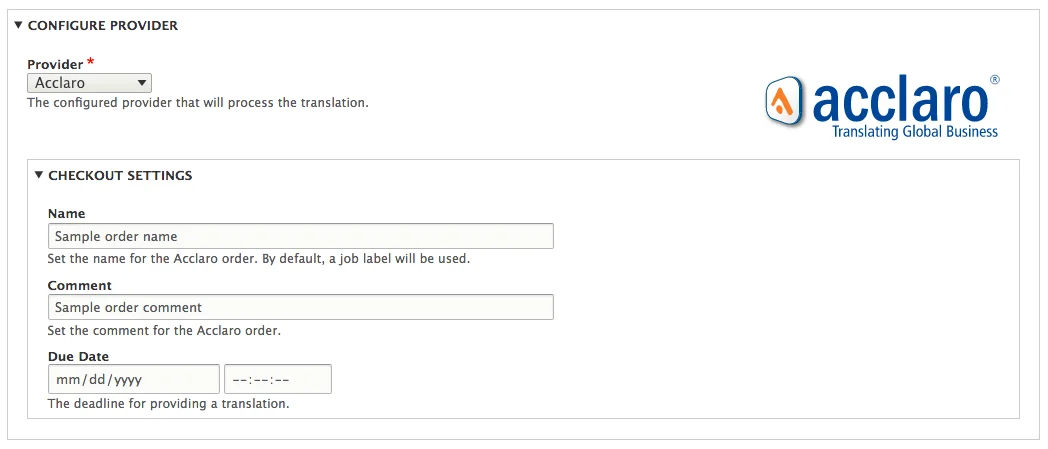 Translation status updates
Acclaro Translation Provider module completely integrates with the My Acclaro client portal.

Drupal is notified of changes and finished translations are automatically received upon completion. As a result, editors and site administrators are able to track the current state of their translations as well as the previous status updates. 
It is also possible to manually fetch translations, for example in case a website is not publicly reachable.
Are you looking for a similar integration for your Translation Services?
As TMGMT becomes one of the most powerful translation management solutions for Drupal, we created a standard offering for new Translation Service Provider integration projects.
In case you are eager to know more about this topic feel free to check related projects and contact us.